Staying Inside the Lines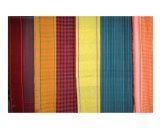 As a child she was a good kid, one who could be counted on to do the right and proper thing. When she colored, she was careful to stay inside the lines. As she was told. And taught.
So why is there a picture of a brightly colored pink elephant hanging on her wall?
Why is the picture hanging on her wall matted, framed and properly hung, center stage in her very proper living room?
Because, she knows the secret.
Has always known it, but did not know she knew. Staying inside the lines does not take away your zest for life or your independence…
if you use colors that excite the senses, excites you and allows you to soar.
Vannie Ryanes January 30, 2010
Colors of South India Photographic Poster Print by Chandra Jayaram